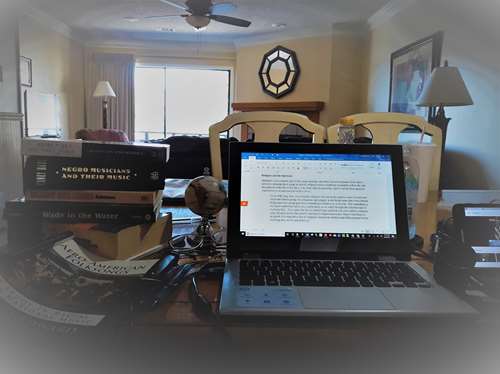 We got an early start Thursday. Gerry was heading back east that morning, so I got up and fixed breakfast so that we could have a final chat before he left. After he left, I cleaned up and got down to work.  Or at least that was the plan. I'm under deadline to finish my first published book, and I've hit a wall. As the day passed, I had brief moments of typing, but mostly I stared at the computer screen or out of the condo's patio door at the lake beyond.  Well after the sun went down, I finally gave up and packed up my belongings in preparation for departure Friday morning.
Writer's block is a terrible thing to have. And this is a crappy time to have it.
Before I'd gone to bed Thursday night, I got an announcement that the area would be under a flash flood watch from Friday evening through the entire weekend. I didn't want to be caught on the road, especially in the Ozarks, in the midst of heavy rains. So, I changed my plans for the day to allow me to get onto the road by early afternoon.
When I left the condo Friday morning, I drove down Central Avenue to the heart of the Hot Springs National Park facilities. I decided to visit the Mountain Tower and its observation deck in the hope of getting a great view. Fortunately, while the skies were beginning to cloud up, I was still able to get lots of photos from three different heights: the snake-like turns of the drive to the tower, the second and the third level observation areas of the tower itself. The view was spectacular, even with the growing cloudiness, giving me a 360-degree view extending to the hills beyond the town.
I've selected a few of the pictures here. Most will be available on my Flickr page. (BTW, to give you a sense of how high the observation deck was, I included a picture of RB parked in the lot below. She's the red car on the right side of the lot.)
My last stop before leaving Hot Springs was at the Fordyce Bathhouse, which has been converted into the national park's visitor center. I do wish I'd be able to take the time to explore the facilities, but I was unable to do so. I settled for a few photos and hit the road.
Overall, I had a great, restful week and am glad to finally be able to add the Hot Springs National Park decal to my walking stick.