Did I mention that I'm a Trekker (okay, Trekkie, whatever)? I first started watching the original series in syndication in the early 1970s. In the early 1990s, I attended my first Star Trek convention in Tallahassee, Florida, while I was a grad student at Florida State University. While my personal collection of Trek mostly consists of books, my home office has its fair share of Trek memorabilia.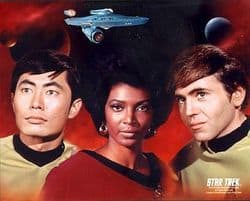 Strangely, although it's less than 80 miles away, I have previously visited Riverside, Iowa, only once before–for the 2009 TrekFest. It was their 25th anniversary celebration of the festival, and their special guests were George Takei, Nichelle Nichols, and Walter Koenig (who is, BTW, a Grinnell College alumnus). Unfortunately, I have no idea where the pictures I took, especially from the parade, are, but here's more information at this TrekFest page.
In case you are wondering how the small Iowa town became known as "the future birthplace of James T. Kirk," I'll share this from the above-mentioned Web site:
In 1984, former city councilman, Steve Miller, came up with the idea to dub Riverside, Iowa – The Future Birthplace of Captain James T. Kirk. This far out idea was approved by the city and by Star Trek creator, Gene Roddenberry. That year, the town's annual River Fest celebration was renamed TrekFest. The family-friendly event has lived long and prospered – reaching its 25th Anniversary year in 2009. To commemorate the anniversary, three actors from the original 1960's Star Trek TV series (George Takei, Nichelle Nichols and Walter Koenig) will beam in and participate in TrekFest events.
I wasn't able to add Riverside's Voyage Home Museum to my quickie trip last week because the museum didn't open until noon, and I didn't want to be rushed during my time in Trekdom. On impulse, I contacted my former voice teacher from my days as a doctoral student at the University of Iowa to see if he and his wife were available for lunch in the Iowa City area. I was surprised that they were with only two days notice. It was a lovely hour in Coralville spent catching up and alleviating–if only briefly–my seafood deprivation, but I want to kick myself for forgetting to ask them if I could get a picture together while we were there.
Riverside is very much a typical small Iowa town (population 1060 based on the 2020 census) with a couple of exceptions. When you exit IA-27/US-218 South, you can turn left towards the nearby casino or right towards the town, where you immediately see Star Trek references. As I entered the town, I was greeted by a series of banners on poles lining First Street (as well as others I found driving around town):
The museum itself was very easy to find, and its theme is immediately obvious to us fans (though I'm not sure about the connection of the bicycle(?) theme inside the Starfleet symbol).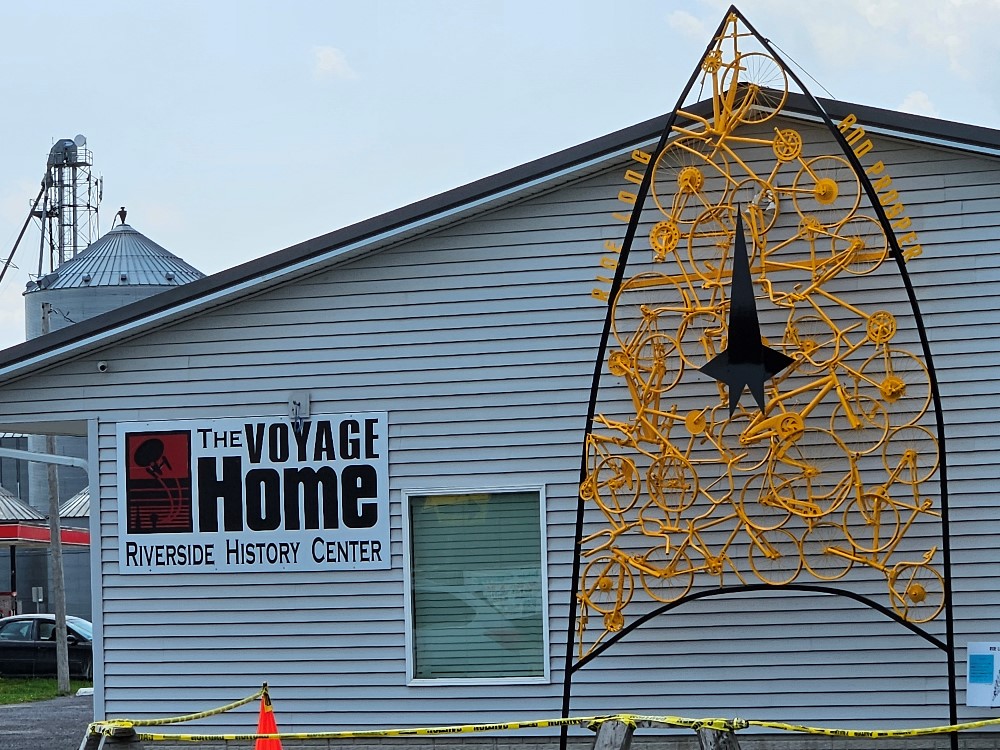 The exterior of the building offered an exhibition on its own:
While the television and film history of Star Trek is covered in the various exhibits, the primary focus in the museum was the original series and the movies that spawned from those 1966-1969 television episodes. There were numerous displays of books and commercially-produced or fan-created products, from costumes to weapons (I was hoping to see a Vulcan lyre around, but 'fraid not). Another Trekker was kind enough to take a picture of me standing on their life-sized transporter with cutouts of Kirk, Spock and McCoy flanking me.
I purchased a couple of magnets and a t-shirt, and the lady who was monitoring the museum gave me a list of other Trek-related sites around town. Since I had nothing else planned, I decided to check them out. The first was a statue of Kirk on display at the park across the street from the museum.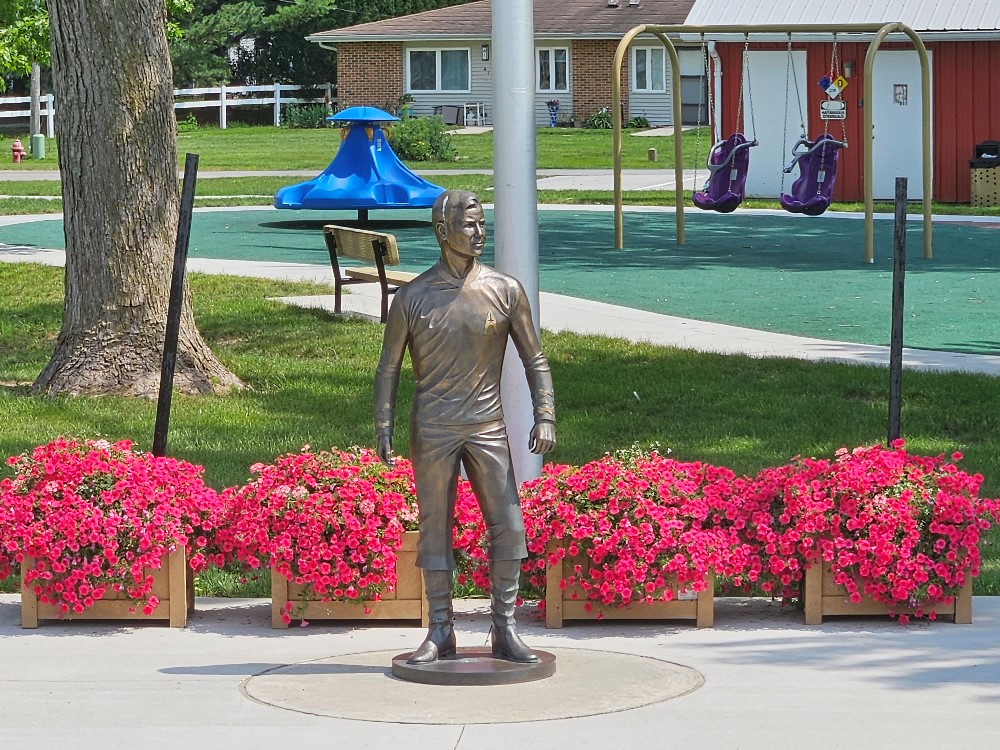 Then, I found the official site the town identified as Kirk's birthplace off First Street. The spot was a grassy area near the town hall and featured a stone engraving (when I saw it in 2009, it was located on First Street near the entrance to town). The display, along with a little lending library, was across the street from the post office that had a poster display of four 2016 Star Trek-themed U.S. postage stamps.
While I was looking for a shady spot where I could take a break before heading home, I saw something near a park that caused me to do a double-take. It was, indeed, a shuttlecraft!!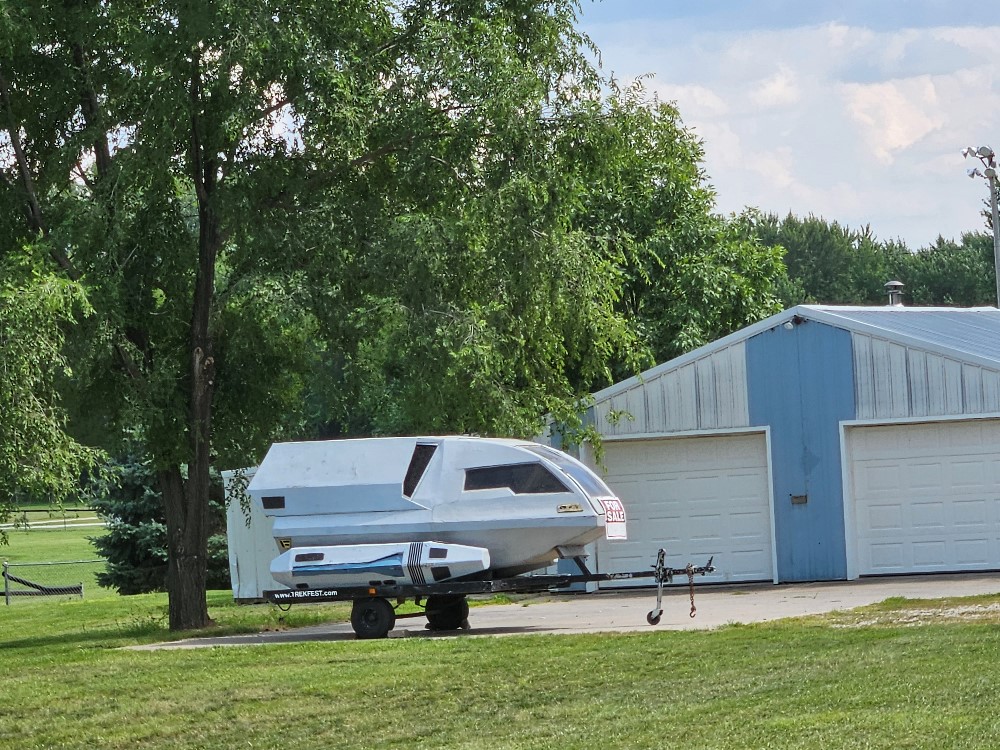 I immediately turned back for a closer look. Apparently, it was a TrekFest model that is now available for purchase. Most folks might ask the question, "who would buy such a thing?" However, they clearly don't know Star Trek fans.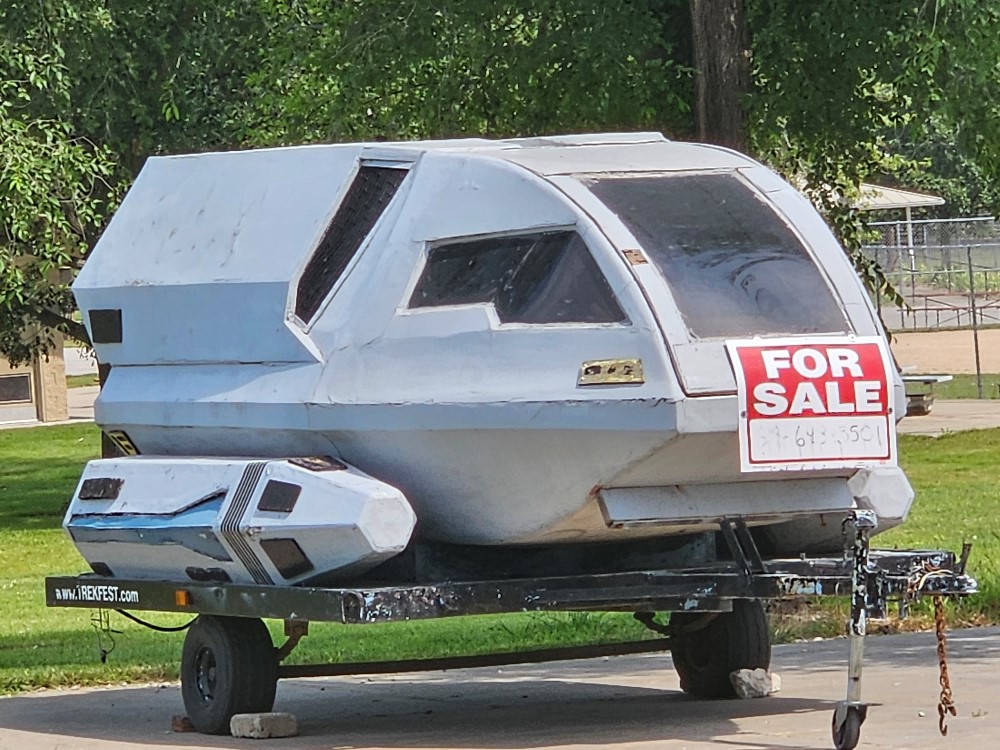 The rest of the pictures are available at http://singin1.com/piwigo/index.php?/category/trekking-in-riverside-072223.
Since I promised myself I would get some packing/clean-up done, I headed home. As I mentioned earlier, I do have a few Trek items in my personal collection.
Lastly, maybe it's just me, but the bugs seem to be worse than usual this summer. SB's windshield was so heavily covered with them on this short trip, I immediately took her to the service station on the edge of Grinnell to gas up and manually clean off what I could, then drove her through the closest ultimate car wash. The automated wash finished what I started by completely cleaning the windshield, but there are still bug remains on the front grill and body. Although I don't think the Iowa variety of bugs excrete an acid that eats through metal like some of the Florida ones do, I'll take SB for a second, manual run through tonight.
Curiously, SB's body shape reminds me of the shuttlecraft. Do you see it?
Update:
What did I tell you about Trekkers and paying big bucks for memorabilia?
From Facebook: "A shuttlecraft used in the Star Trek television series from the 1960s had been sold for an intergalactic £45,000 at auction. Galileo 7 was stored in a garage for years and was allowed to rot. The ones that bought it restored it to its previous glory and is not on display at Space Center Houston, the visitor's center for NASA's Johnson Space Center."
---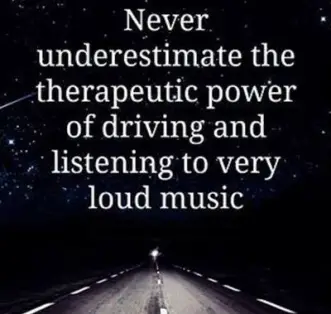 This was a more direct, short trip than I usually take, so I just stuck with my Randye's Replays playlist throughout the trip since the list has grown to nearly eight hours of songs.
BTW, I owe a kiss to the person(s) who placed the controls for repeating song selections, volume control, etc., directly on the steering wheel. WONDERFUL idea!!
---
As always, I thank the Lord for granting me the stamina to make the trip, the damn good reflexes to steer the SB as she needed to be guided, and the ability to enjoy His handiwork as it whizzes by my windshield.