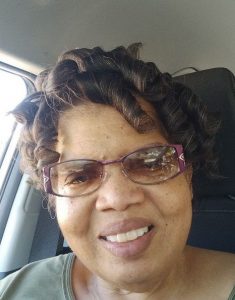 Usually when I drive, I am free to take as much "stuff" as I want and leave at my convenience. However, I had scheduled a hair appointment in Des Moines because I wanted it to look its best for my presentation. I somehow managed to get out late yet still arrive only ten minutes late despite the heavy traffic.
Amanda did her usual great job, and I asked her not to comb it out in the hope that would help my hair hold up until my scheduled time Saturday morning. Wishful thinking, I know, but I had to give it a shot.
Anyway, although the drive from Grinnell to Costa Mesa, California, calls for more than a day to cover the approximately 1741 miles, almost all of the trip is on interstates with speed limits up to 80 miles an hour the further west one drives. Plus, I was travelling mid-week and off-peak. So, from I-80 to I-70 to I-15, the ride was smooth, and the traffic was mostly light. I reached Las Vegas at night. I'm not sure what time, but with Vegas, does that really matter? The lights of the city seemed to cover the valley of the hill from which I descended, and the casinos and other buildings kept the roadway bright as I drove through. I don't bet when I have to put real money down. I wasn't even slightly tempted to stop and gamble.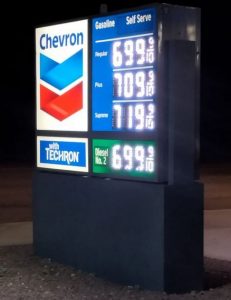 The main thing on note during the journey west was the shockingly high increases in gas prices along the way. My first Facebook post about the prices was in Beaver, Utah, where the cost for regular unleaded was $4.699/gallon. Little did I know that I would remember that price fondly before another 24 hours would pass because, by the time I had to gas up in Baker, California, the price had leapt to $6.999/gallon. Don't believe me? Look to the left. (By the way, this would not be the most expensive gas I would see before I left the state.)
I finally made it to the motel where I would stay throughout the conference on Friday morning just after 2 a.m. I'm grateful that I wasn't so late to get caught in the infamous morning rush. Rather at that hour, the traffic was light. Still, it took me a while to settle, finally lying down around 5 a.m. I vaguely remember the 7 a.m. wake-up call, but I only hung up the phone, rolled over, and went back to sleep. When I did finally get up, I debated about five seconds whether I was going to attend any of Friday's scheduled events or use the day to rest and recover and to put the finishing touches on the paper I planned to present on Saturday morning.
As it worked out, somebody was expecting me to be there on Friday. More about that later. Anyway, before I go further, let me share the map of the drive to Cali.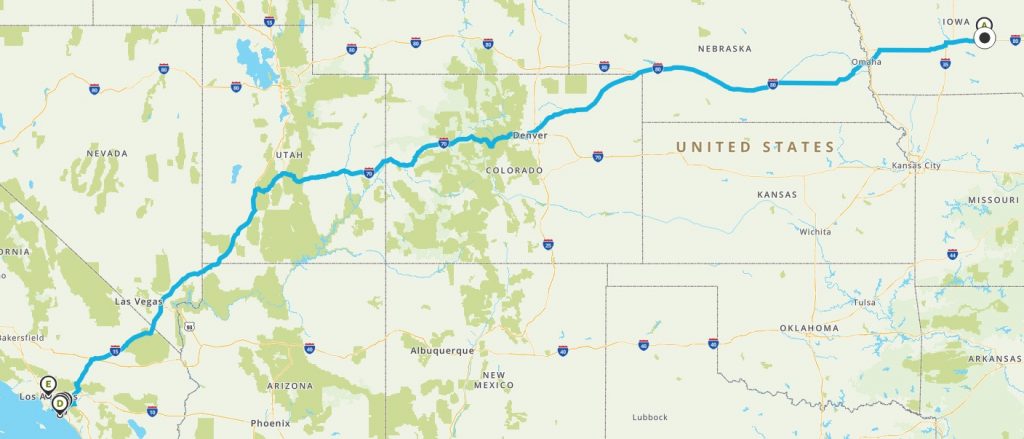 My start Saturday morning had me a little worried about whether it portent the direction the day would take. I turned on the water for the tower and got drenched because the stopper was still pulled. So much for my hair! Oh well, guess I'm wearing a hat. I was dressed, computer packed and out with enough time to have breakfast at the nearby IHOP.
I got to the Claire Trevor Center of the Arts at the University of California, Irvine, in enough time to hear the second half of the lecture-recital before my presentation. My lecture was scheduled for 9 a.m. Pacific Time, so I'd figured that no one was coming to a lecture that early on a Saturday morning. I was pleasantly surprised how many attended. I've linked to the recording of the lecture below.
Below are a few stills I created from the video:
This slideshow requires JavaScript.
Somebody had planned for me to attend a program on Friday, but since I missed it, they decided to surprise me after I finished my lecture. Conference organizer Dr. Darryl Taylor and Ms. Susheel Bibbs interrupted the transition to the question and answer period to present the 2022 Willis Patterson Award for Excellence in Research.
The African American Art Song Alliance held its 25th anniversary this year. It presents concerts, lectures and master classes. There's so many activities scheduled through the three to four day conference, but there's still time for networking with colleagues who share an interest in art songs by Black composers. Among the contacts I managed to make was with composer Rosephanye Dunn-Powell, a former classmate at Florida State University, and composer/pianist Maria Thompson Corley, who was an accompanist and coach at FSU while on the faculty at Florida A&M University. Fortunately, someone did take pictures of our time together.
This slideshow requires JavaScript.
After such a long and productive day, I needed a real meal. I leave the campus and found a Jack-in-the-Box drive through, a drive through I discovered served a wonderful bowl of chicken teryaki and an egg roll combo. I liked it so much I had it as often as I could while I was in the state. While I was eating, it started raining heavily. I decided to use that as an excuse to call it a day and returned to the motel. There were still a couple of presentations scheduled for Sunday morning. I wish I could say I attended them, but my body demanded more rest.
Fortunately, the conference events were recorded, so I plan to take my time and play catch-up. Archival conference information available here:  https://hampsongfoundation.org/resource/african-american-art-song-alliance-conference-2022/
Business done. Now for fun!!
I had arranged two tourist activities for Monday, but Sunday was designed to let me get some more rest before the marathon national parks run began. I only planned one thing, a reunion with an old Stargame friend. We met, along with her daughter and her daughter's husband, at an Olive Garden in the area. For a Sunday evening, it was pleasantly not too crowded. We were able to have a relaxed and enjoyable dinner.
This slideshow requires JavaScript.
I couldn't have done this kind of distance driving without my musical playlists. Mostly, I used my Mixed Nuts list, which has almost 3,500 popular music tracks–all played at window-shaking levels.
The D'lairs Replays list is now at 63 songs I selected because I enjoy singing or dancing to them so much. They keep me engaged when I need that.