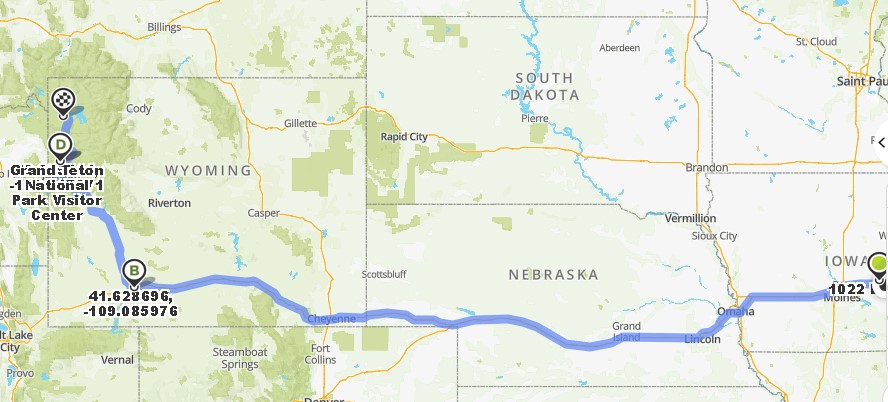 Now that I had SB and she had proven herself to be road worthy, I wanted to really put her to the test. Also, with my recent last birthday, I could now purchase a senior lifetime national park card, thus ending the annual card fees. The only thing I had to determine was whether there were any parks I hadn't already visited that I could make happen in a weekend. Then, I remembered that I had not visited the Grand Teton National Park even though it had been just a few miles away from Yellowstone National Park during my northwestern United States in 2014 and didn't realize how close I was at the time.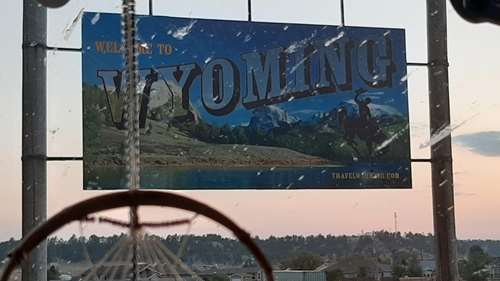 The drive to Grand Teton was over 900 miles each way, and I was going to drive the round trip in basically two days! Plus, I was considering the possibility of a brief stop at Yellowstone–this would depend on how soon I finished at Grand Teton and how tired I was.
I got underway Friday evening after rush hour and drove all night. Most of the drive is straight down I-80 West, then US 191 took me the rest of the way into Jackson, Wyoming. Since I was driving all night, there wasn't much to photograph, except the border sign that you can barely see through all the dead insects on SB's windshield. I finally hit my "wall" and pulled over to close my eyes for a few minutes. When I woke up from my nap, I was astonished at the view of the sun rising over the mountains. I tried to capture it using the panoramic option on my phone's camera. This would prove to be the first of several panoramic shots I would take during the trip.

.
Between the continuing virus alerts and what I was hoping was the normal off-season, Jackson, which is the closest town to the park, was busy but not overwhelmingly crowded. I got breakfast and headed to the park. I thought about filling up before I left town and would come to regret not doing so before the day was over.The weather was spectacular, warm enough to move around without need of more than a light jacket and was clear and sunny.
Speaking of which, there are two things one should keep in mind visiting a national park: one, make sure your gas tank is full before entering the park, and two, make your first stop the visitors' center and talk to the range on duty about the best options for things to do during the time you plan to be in the park, whether for a few hours or a few days.
I limited my time at the visitors' center to just long enough to get instructions, a new decal for my walking stick, and my new lifetime park entry card. This would be my only direct contact with anyone because I was trying to maintain social distance. The park was lovely, and the day was clear and warm, especially for early October in the mountain. The fall foliage was stunning. I tried to capture the scenery as best as I could.
I took several panoramic pictures as well to try to capture the scope of the terrace. One was selected to post here:
It was late afternoon by the time I finished at Grand Teton. Just enough time to make the short drive to Yellowstone. I'd hoped that I would pass a gas station along the way, but no such luck. I was down to a third of a tank of gas by the time I entered the park, no where near the amount of gas I should have had entering a park as big as Yellowstone. The park range had suggested I visit a waterfall in the midst of the park. Early in, I saw a female moose grazing along the side of the road. I didn't hang around for long, however, to avoid making the moose mad and tempting her to charge SB.
The route took me further and further away from the site where a gas station was located. If I was driving RB, I would have had a good sense of how close to empty I really was, but with SB, I didn't know whether empty was truly empty and didn't want to find out the hard way. Additionally, it was getting dark, and I was getting a bad feeling about the notion of continuing along the way I was going. Seeing the waterfall just wasn't worth running out of gas in the middle of the park, so I turned around and drove to the complex where I could gas up. Of course, I had to pay for the convenience.
This slideshow requires JavaScript.
I thought about staying in Jackson overnight and making another try at Yellowstone in the morning, but I had a thousand miles of road to drive on Sunday and decided it wasn't a good idea.
The drive back was fairly uneventful except a point where I hadn't realized that SB's cruise control was off, and she was cruising down I-80 at 101 miles per hour. I got her down to closer to the posted speed limit just minutes before driving by a highway patrol person. WHEW!! I also took pictures of signs marking the Continental Divide.
SB fared very well on the journey and proved that the name, the Silver Bullet, aptly suited her.
So, Silver Bullet–or SB–it is.