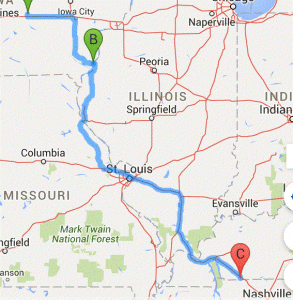 I did a re-assessment of the trip and decided to delay departure until Tuesday and reverse the direction of my route. This would mean missing Trekfest, but with a four-day convention on the schedule and the possibility of attending another year, I could work with this idea.
So,… I spent a relaxed 3-day weekend in Grinnell. RB's mileage hit 137K over the weekend, so she will hopefully make it to 140K before this excursion is over. Beyond doing a reshuffling of what I'd prepped for the trip, I didn't do anything but catch the newly released I4 movie at the local theater.
After a couple of false starts, got out of Grinnell just after 11 a.m. Tuesday morning. RB's starting odometer reading was 136,037 miles.  Since my goal was to get to Nashville, minimally a 10-hour drive away, I didn't plan many stops along the way. The one I did plan was Snake Alley in Burlington, Iowa. It claims to rival San Francisco's Lombard Street for twists and turns, so I wanted to see it. Who am I kidding? I wanted to take RB on it.
I set the dash cam, but it's new, and I didn't anticipate that extended use would result in the recording of the actual descent being overlain. Fortunately, I did take a few stills that are below:
This slideshow requires JavaScript.
The drive was pretty steady until I reached the outskirts of St. Louis and realized their evening rush hour was underway.  Rather than get caught in it, I stopped for dinner.  When I finally reached town, I was treated to this wonderful view of the Arch.  I visited it a few years ago, so I'm settling with this view before I continued south.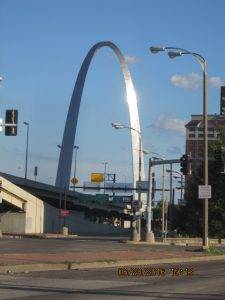 Other than a wild–or incredibly long–delay on I-64, the drive was uneventful. Stopped for the night about an hour outside Nashville with a busy day planned for Wednesday.
Started my playlist from the beginning.  Lots of A's and started the B's just before I stopped for the evening.  For me, the steady driving, accompanied by great music, really does make me relax.
Save
Save
Save