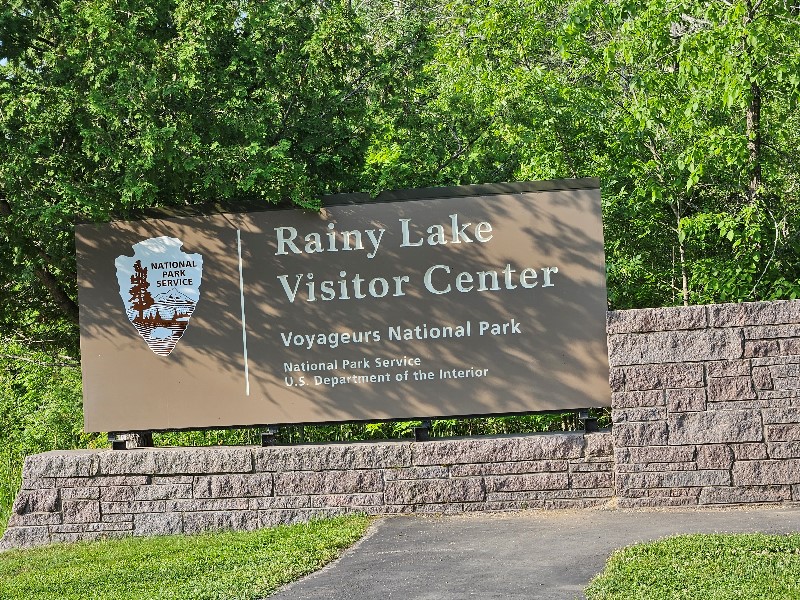 Juneteenth morning found me about two hours away from my destination, Voyageurs National Park. Still, I got there, or what I thought was there, around 7 a.m. I took advantage of the time to get online–yes, I had wifi there-slow but there–to get information about the park. I discovered that a boat tour was available and there was one ticket left for the morning tour. Shortly after purchasing the ticket, a gentleman informed me that the park tour was located at another part of Rainy Lake. Fortunately, it wasn't far away and only a matter of giving Waze a slightly different destination name, Rainy Lake Visitor Center, to get to the correct location.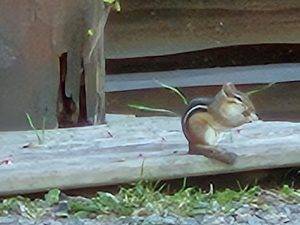 I saw a cute little chipmunk on the log building stoop, but mostly I saw and provided meals for lots of mosquitoes along with dead dragonflies, which I learned later are called mayflies.
The ranger I spoke to told me that this park, unlike many others, was primarily based around  waterways, so there was little scenic activity suited to car traffic. As it worked out, my best alternative was to take the boat tour I had been lucky enough to purchase earlier that morning. I purchased the usual park-themed magnet and medallion, then discovered that I had left my passbook in SB. Rather than going to get it, I decided it was time to graduate to the bigger parks book and transfer stamped pages from my passport to that book. That done, I walked down to the wharf where the tour boat was docked. Have-seat-will-travel got the attention of the boat's bos'n, who kindly made sure I got aboard and settled before the other passengers were seated.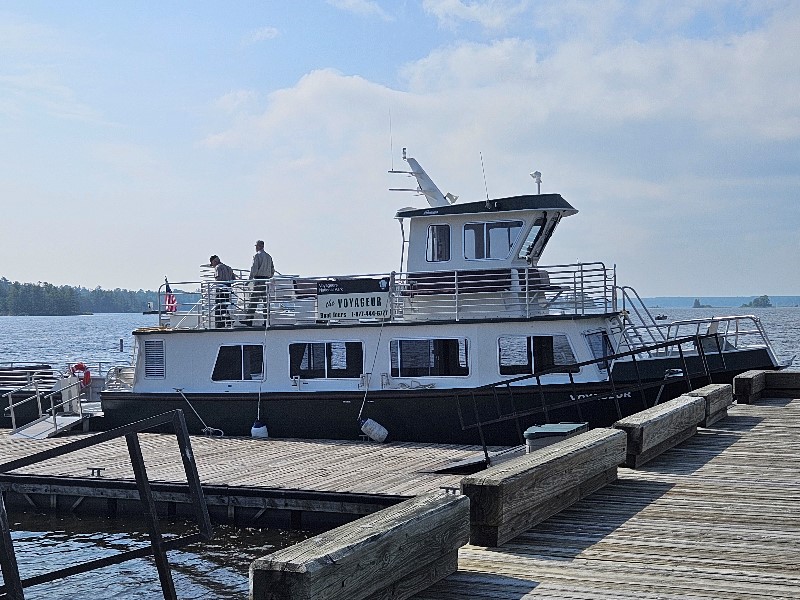 Once the boat captain gave us safety instructions and got underway, passengers were permitted to go to the upper deck or to seating areas in the stern while a ranger talked about the lake's history and ecology. He talked about the importance of the different wildlife–from mosquitoes and mayflies to bears, deer, and wolves–to the ecosystem of the lake. The lake seemed so big, touching both United States and Canadian borders, then I remembered that even bigger lakes, including Lake Superior, etc., aren't far away.
I stayed in the lounge and took advantage of the large windows for taking pictures. And, boy, did I take pictures! Again, I took over 100 pictures during the 2-hour tour. Unlike yesterday, I didn't have a lot of luck seeing wildlife, with one exception:
The ranger said that bald eagles in the area are no longer considered to be endangered; in fact, they might now have an over-population in relationship to the food sources available to them.
I've posted the rest of the pictures at singin1.com/piwigo/index.php?/category/mini-nwnp-day-3-june-2023. Again, the map on that page can be expanded to give exact locations where the pictures were taken.

I stopped by the park headquarters to get a picture of the park's sign then hit the road heading south. I stopped at a reststop and saw a sign that indicated that the area acted like a continental divide between the Hudson Bay in Canada, the Altantic Ocean via Lake Superior, other great lakes, etc, and the Gulf of Mexico by way of the Mississippi River system. The sign caught my attention because I am always looking for points where I cross the Divide when driving West. Then, the route took me into Duluth. I entered a curve and was greeted by a beautiful scene that the light traffic at that moment allowed me to slow down enough to capture a few shots. I learned later that it was Lake Superior.
The rest of the drive was uneventful. I couldn't help but note how many vehicles in Minnesota were towing boats. There was even a Cadillac Escalade pulling one. I guess when you live in a state known as the land of 10,000 lakes, boating would be, indeed, pretty popular.
When done, SB's total mileage stood at 38,585. She was covered with dead bugs from front bumper to windshield, as is visible in the pictures above. Don't worry, I got her washed on Wednesday evening after work. With all the insects on my car, there must not be any more left in all of Minnesota, North or South Dakota.