I didn't mention previously that, in preparation for this trip–during which I expected to present publicly, I'd gone to the trouble having my hair done just before I left Iowa.  I also didn't mention that the TSA had pulled my bottle of styling mousse out of my carry-on bag because the bottle was too big to make it through inspection.
If only I'd packed an umbrella instead of the bottle of mousse!
Anyway, Friday morning was spent in the hotel resting and chatting with my mother and sister.  We decided to order breakfast room service (I can still hear the reverb of the cha-ching's from *that* one)–an experiment none of us wanted to repeat (when I write the Tripadvisor review, you'll see why).
This did allow me the day to convert my notes into a coherent presentation for the evening's Burleigh Society program.  I also had plenty of time to roll my hair using an improvised solution to my departed mousse and to dress appropriately for the event.  I should have asked my sister to take a picture before I left, because…
…the storm washed my hairdo completely away.
The very same storm–with its heavy winds and rain–that had visited Iowa on Wednesday and made travel through Chicago interesting on Thursday was now in New York.  I had a leather coat, which did a fine job protecting my outfit, but my head was completely exposed.  Usually, I do my hair and makeup on site as my way of relaxing before the program, so I have no idea why I chose to go a different route this time.  The results were pretty much inevitable, and no amount of combing was going to bring the curls–or any other style suitable for a professional performance for that matter–back.
Oh well, as they say, "the show must go on."
The Harry T. Burleigh Tribute Program  was wide-ranging, and all who either performed or lectured –including the congregational singing of Burleigh's version of "Walk Together Children," contributed strongly to its success (I'll have to leave it to others to access my part in the proceeding).  However, for me, three things parts of the program were most memorable.
Following the welcome came a performance on a foot-pump organ.  After I saw all the work the organist put into her performance, I went onto YouTube to see if there was a video  about a similar instrument. I don't know if the instrument used on the video was the same as that used in the program, but the organist, Artis Wodehouse, was the performer during both.  I do wish I'd seen the video before the program because I'd have appreciated her outstanding performance even more than I did.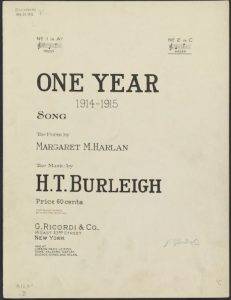 Second, a young member of St. Georges read a biography about Burleigh written by another youngster.  The astonishing thing was that the A+ graded paper was written fifteen years after Burleigh's death by a young person who had clearly learned to admire the late composer.  And the third thing that was most striking to me was my first hearing of the performance of "One Year," a song written by Burleigh during War World I.  What I found even more impressive to me as a singer myself was that the baritone, Steven Kirby, had sat for more than an hour before delivering that affecting performance.
And, of course, it was wonderful hearing Jean Snyder, my roomie at the AAASA conference just last February, share a little of her wealth of knowledge about Burleigh with her presentation about the singer-composer's relationship with St. Georges Church.
Overall, though, I must extend kudos to all who performed or presented that evening!
Fortunately, the program was surprisingly well attended considering the cold, torrential rainfall that dampened the evening.  I believe that much of that was due to the organizational skills of the Burleigh Society (Marti Newland and Lynne Foote), the appreciation that members of St. Georges Episcopal Church still have for composer Harry T. Burleigh (1866-1949), as well as the talented presenters the society had invited to be involved in the program.
This slideshow requires JavaScript.
The program was live-streamed and is now available online at https://www.youtube.com/watch?v=-KncSSsGrUM.  I understandably avoided standing for the pictures that were taken afterwards.
The generous feeding of the soul that evening was then following by a major meal to feed the body.  The presenters and other guests, including my mother and sister, were treated to a sumptuous, not-soon-to-be-forgotten feast!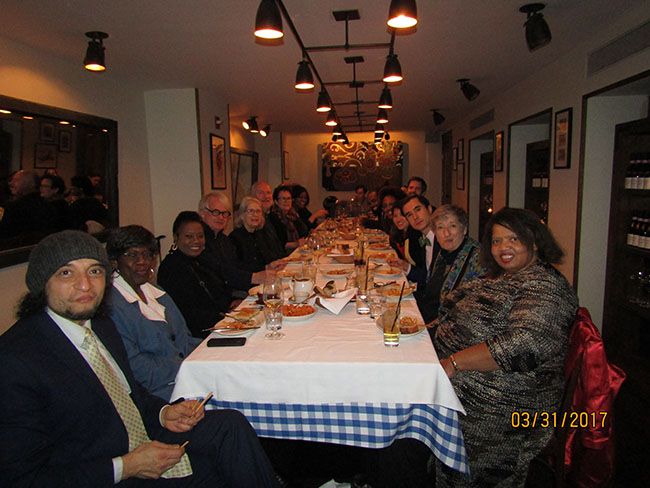 We got back to the hotel around 2 a.m., and my sister and I immediately decided that, between the terrible weather that was forecast to continue until the afternoon and the early hour we would have to arise to make the 8:30 a.m. tour–plus we really didn't want to leave our mother alone, we would be better off cancelling our tour appointment for this trip.
So, we all settled in for a good morning's sleep.
Save
Save
Save
Save
Save
Save