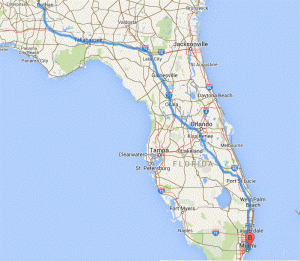 I got out early Thursday morning, but there seemed to be one delay after another along the way.  Plus, I didn't account for finally crossing from CDT to EDT, losing another hour.  One delay was my fault.  My original plan was to drive past Tallahassee (Tallytown) heading south and to stay there overnight on my way back.  Well, Floridians seem to have a thing about putting their college decals all over their cars (admittedly a mild exaggeration), and well, my FSU decal was so damaged, it was unrecognizable.  I couldn't represent like that, so I drove into town and bought a replacement.  Thing is, this placed me barely a block from my old haunt at the FSU School of Music, and I owe folks an explanation for why I didn't stop by while there.
Grabbed lunch to go–I still thought it was before noon and not actually 12:30 at that point (reminder: set clock on cameras, please)–and noticed the intown traffic was already getting heavy.  Once I was back on I-10, things really got serious.  You see, this was the Thursday before a 3-day, 4th of July, weekend in Florida.  Everyone who could start their vacation/holiday early was on the road.  And the driving was not for the faint-hearted.  Fortunately, my big city driving skills still exist, and RB responded to the situation as she always does.
FYI, for those not used to this kind of driving:  one, the speed limit is totally irrelevant; two, that barely there space in the lane beside you also looks pretty attractive to at least one other driver in the lane on the other side; three, if you take time to think about braking, it's probably too late; four AND MOST IMPORTANT, if you are crazed enough to be out there and want to drive no faster than speed limit, please don't take up permanent residence in the far left lane–you will be the likely cause of the multi-car accident or, if the rest of us are lucky, solely be the recipient of floods of profanity.
I realized that time was getting late, so instead of taking the site-seer route I'd originally planned, I took the more direct one using the Florida Turnpike.  By then, however, the rush hour traffic had joined the vacation/holiday traffic.  I will spare you a description of THAT, but I will only say it's the stuff of nightmares.
Oh, BTW, it rained regularly throughout the day, so bad weather was also a contributing factor to the day's adventures in driving.
At one of the few quiet moments, I saw a beautiful double rainbow stretching across the sky.  A few pictures are below:
I do wish that it hadn't been so late when I finally approached Miami Beach.   It was too dark to see much of the area, but I hope to have some time to get out and explore before I leave next week.  Other than that, RB will get a much-deserved four-day break.
For this part of the trip, I've arranged through Airbnb to stay in a room at a residence in Miami Beach.  It's a great location–only two blocks from the beach and a ten-minute Uber ride to the Miami Beach Convention hall, where the Supercon is being held.  The host has been very gracious thus far, and the room is very comfortable with my own bath.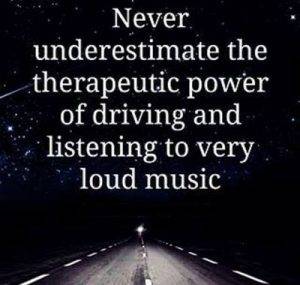 The music for a day like this was critical for me.  Believe it or not, it kept me focused on the task at hand, which is why I don't put Classical music on the list.  And I'm glad I broke up the "The" groups to add an even more pleasant variety of solo performers and groups to the playlist.
The B's part of the playlist is huge (remember that the playlist as a whole is nearly 14GB) with my usual obsession session on Barry Manilow's "Could It Be Magic"–don't try to figure out why I obsess over that song, I gave up trying to understand why long ago.  The first of the C's didn't begin until I had passed Orlando.  Some great music to look forward to hearing.
Save