I woke up early Saturday morning with an appointment in Des Moines scheduled in the afternoon, so I decided impulsively to drive an extra 20 miles to Winterset to see the famous covered bridges of Madison County.  This would give me a chance to "test drive" my new walking shoes and dash cam–both not yet picked up from the post office–plus the cowboy hat I'd recently received.
One of my nieces and I had visited Winterset back in 2008 to see actor John Wayne's birthplace.  I'd been living in Iowa less than three years and was only then beginning to explore the state.  I simply didn't know that the bridges were in the area.  So, I'm glad I had another chance to visit them.
By the time I got the cam, figured out how to set it up and looked up information about the bridges online, it was already 11 a.m., so I made best speed to Winterset.  The route is pretty straightforward: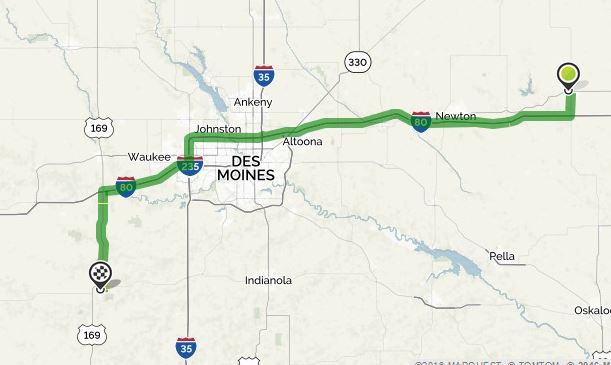 As I entered Winterset, I immediately saw a sign for the first bridge, so I turned and followed the signs to Cedar Bridge.  The bridge was not fenced off, so I was able to drive through it.  Below are some of the pictures:
It was a short ride to the town's chamber of commerce, where the lady working there was kind enough to map out a route for the remaining five bridges.  She also suggested that if I had time, I should visit the John Wayne museum that had recently opened.
Rosemont Bridge, made famous by the novel and motion picture, The Bridges of Madison County, is well outside the town.  I missed the turn and lost valuable time, but I did eventually figure it out.  BTW, the bridge is on an extended dirt road.  I'm just glad the weather was dry, even if very cool and windy.  This bridge is fenced so I had to walk around to get pictures.
I was running out of time. Just enough time for one more bridge before having to head back to Des Moines for my appointment. I decided to go to the other bridge outside of Winterset and make another trip back to Winterset to get the rest later. More dirt roads–and an apology to RB–later, we reached Hogback Bridge. It, too, was fenced for pedestrian traffic only. Had time to get a few pictures:
After my appointment, I was contemplating catching a movie in Des Moines, where I would have more options than in Grinnell. But I found a reminder on Facebook that a colleague was performing at Noce Jazz Club in town, so I spent the evening listening to him perform with his Jazz quartet along with a string quartet==not the standard combo. A couple of shots from the show:
It made for a long day overall. Fortunately, I had the option of sleeping late Sunday. As for the other bridges, I'm going to try to return during the Memorial Day weekend to get them in. Stay tuned for part two.