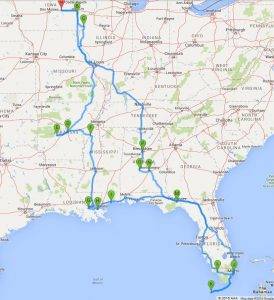 I looked at the detailed route–a 122-page TripTik, btw–for my scheduled trip and noticed that the return takes me through Nashville, Tennessee.  I'd visited Memphis in the past–both as a conference attendee and as a tourist, but I've never entered Country music's center.
So, with a quick check of Tripadvisor, I discovered that the Musicians Hall of Fame and Museum is located there.
And, of course, Nashville is the home of Fisk University.  I definitely want to visit, and if I can work things out so I arrive on Friday, perhaps I can get some research done.  Also, if time permits, I might try for one of the music tours.  All depends on when I arrive and how much time I have left to get home.
(I'm determined that I am not going to repeat that over 1,000-mile one-day marathon drive home I did in 2014, which ended with me getting only three hours sleep before going to work.)
Anyway, suggestions for a good place to eat or some other site I MUST see in Nashville are appreciated.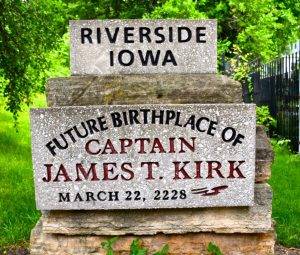 Also, the organizers of Trekfest have posted the schedule for their 2016 weekend festival.  Based on past experience, I'd like to get there about an hour early so I can get a good seat for the parade.
I didn't see any information about Star Trek special guests, but I'm crossing my fingers that someone interesting will be there.
Yes, I know I'm going to four days of Trek at the Supercon.  So?!?
I've started checking the weather forecasts for the area, too.  Hurricane season, you know.  Little Rock is expected to have highs of 100+, New Orleans in the low 90s and Gulfport, Mississippi, in the mid-90s.  Thankfully, the most serious precipitation predicted is for scattered thunderstorms in Gulfport.  I'll start checking Miami Beach before the end of this week.
I hadn't planned to fill up RB's gas tank until departure time, but gas prices just dropped to $1.999/gallon, which I couldn't resist.  My hope for this trip is that gas prices will continue to be this low throughout, a pleasant change of pace compared to the prices I found on the West Coast during my last extended trip in 2014.
Speaking of gas, RB goes into the shop Monday morning for a pre-trip oil change and check over.  (Crossing fingers that nothing expensive-to-fix is wrong with her.)
(6/20 Update: Afraid fixing RB won't be cheap, and since it's usually desirable to be able to steer her, we do what we gotta do.  Still, I'm determined to make the trip despite the hit.)
My travel playlist is finally ready.  I added several tracks reflecting my wide popular music tastes:  Pointer Sisters, Ray Stevens, miscellaneous Rock performers from the 1960s, etc.  In a moment of madness, I put together a list of the performers represented on my playlist. The list is over six pages long–if I'd had any idea there were over 900 musicians or music groups, I'd have never done it.
Lastly, today is Father's Day.  My father passed away in 2009, but he is very much in my thoughts, especially this week.  This week also would have marked my parents' 57th wedding anniversary.  I know this is an especially tough day for my mother, and I wish I could be with her just to share a hug.
Have a great week, okay?  My next post will hopefully be from the road….
Save
Save
Save
Save
Save
Save
Save