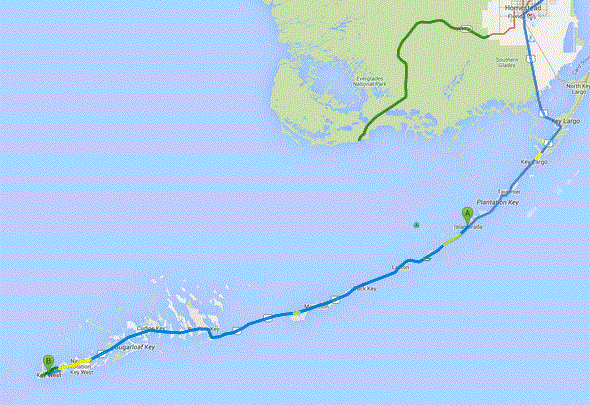 For unintended reasons, I continued to rise early and was on the road pretty early. I left Islamarada and headed west down the Overseas Highway. Fortunately, rush hour traffic wasn't bad, so I made very good time, reaching Key West around 9 a.m. I didn't have a specific destination in mind, only knew that I wanted to get out as far south and west as RB could take me.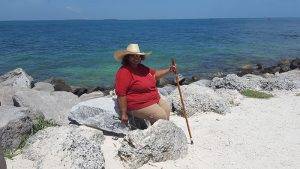 I soon saw a pair of cruise ships in port and by heading their way, happened upon Fort Zachary Taylor Historic State Park. Since I had nothing better planned at that point, I decided to see what there was to see inside the park.  Past the fort just a short distance beyond the park entrance was a beautiful beach that I learned was bordered by the Atlantic Ocean to the east and the transitional waters of the Gulf of Mexico.  An area resident, who was kind enough to take a picture of me on the beach, told me about the area. He mentioned that the Dry Tortugas, as part of Florida, was the farthest southern point of the United States and had to be reached by ferry or plane. He suggested I visit a spot near the park that was the farther land point.
When I had first arrived, the beach was nearly empty, something I found to be a pleasant surprise.  However, I later learned that I had only beat the crowd there.  I didn't swim because I hadn't expected to need my swimsuit, which was too bad because it looked very inviting.  As you can see from the pictures below, it was another lovely day:
This slideshow requires JavaScript.
I left the park and explored Key West further, including various homes that are distinctly southern Florida, the home of Ernest Hemingway, the southernmost point buoy–they have webcam site (in case you're into that kind of thing), a nearby lighthouse, and some of the usual tourist-y shops, where I got the usual souvenirs and an attractive necklace that I've already worn several times (I think it should be in at least one later picture).  On the way out of Key West, I passed another local beach and a farewell sign that I liked enough to back up and capture on "film."  I had also noticed a sign for a Hurricane Memorial–appropriate for area–on my first trip through Islamarado and was able to photograph it on my return.
This slideshow requires JavaScript.
One of the things I have tried to do during my travels is to eat local fare when feasible.  Well, some wonderful smells grabbed me by the nose and directed RB into Mrs. Mac's Kitchens, a restaurant in Key Largo.  Even for a Tuesday evening, the place was packed–another positive indicator–but I wasn't in the mood for a crowd.  Fortunately, they took my seafood order to go.  I also decided to try their key lime pie, which they claimed was world famous.  The seafood was delicious (and that's not just due to my chronic living-in-Iowa-seafood-deprived condition).  As for the pie, it was as you would expect when getting it from the source–just like North Carolina BBQ.  If I'd had a way to bring a whole pie back, I would have done so and allowed myself a slice a week until it was gone.
One thing I hadn't done was to see the sun set over the beaches in Miami Beach, so I found a spot in Key Largo and watched the sun disappear over the Gulf of Mexico.  What a way to end a great day!
I was tempted to stay in Key Largo for the night, but I needed to be in Tallahassee by the next evening because I didn't want to keep my host up late awaiting my arrival, and I knew the main attraction for the day would take a bit of time to experience.  So I made it to Tamiami before I was compelled to stop for the night.  I'll go into why in my next blog entry.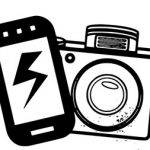 BTW, over my various travels, I've shot lots of pictures, taking full advantage of digital technology that allows me to keep snapping as long as my SD cards have space and my cameras' batteries are charged.  Of course, I don't usually get to share more than a few of these photos.  At least until now.  I've set up an account on flickr.com, which has given me space to load many more–and uncompressed–pictures.  I'll place the link to the pictures I've selected from a day's entry in the area of the image to your right.  Please feel welcome to go and take a look.  I hope you enjoy!
Oh, yeah!  Today's photo album is https://flic.kr/s/aHskCAj2QQ
Save
Save
Save
Save
Save
Save
Save
Save
Save