Before I went to sleep Friday night, I noticed that my edema was pretty bad. Despite my hope, when I awakened, it was much worse. I had no choice but to decide to cut out visiting any of the three Colorado national parks and making a direct route home. Unfortunately, the WiFi access for my GPS was extremely spotty, nor could I get a Mapquest map routing using my smartphone. Below are two maps. The first shows two routes. Route one (the darker blue line) indicates a 24-minute shorter route than number two (lighter blue). However, if I had been able to see both options at the time, I would have taken the second route because it would have placed me on Interstate 25, which would have allowed me to st SB's cruise control and saved my right leg a lot of painful wear and tear. Instead, I was directed to route one, all mountainous roads that forced me to accelerate and brake continuously for a number of hours.
The second map shows what I suspected based on what I was seeing on the road: signs directing me to the parks I would miss, suggesting that each park was quite close to my route.
But before I started the long road home, I decided that I was close enough to another bucket list site, the Four Corners Monument, to continue onward. I arrived just before they opened at 8:00 a.m. This is the brief description of Four Corners on their website:
The Four Corners Monument is the only place where four states meet, Arizona, New Mexico, Colorado and Utah. Upon your arrival at the Four Corners there is a newly created vendor market, a place where you can purchase native artwork directly from the artisan.
The vendor market was just beginning to set up, and I was the only visitor initially. This allowed me to take a number of pictures of the monument without interruption. Then a gentleman arrived who was kind enough to take a few shots of me standing on the exact point where the four states meet.
I decided not to be tempted by visiting the vendor displays. Gas prices were dropping, but I didn't want to spend any money I didn't need to spend at that point. Plus, the sooner I was on the road home, the sooner I would get there.
The mountainous route was so beautiful, but my ankles and right hip enjoyed the views less and less with each passing hour.
This slideshow requires JavaScript.
I took a break in Denver, and it was the home stretch, with my DLair's Replay playlist blasting from SB's speakers.
I pulled into the driveway of home early Sunday afternoon. Grabbing my phone and my walker, I gave SB a pat of thanks and dragged myself to bed. On that Tuesday morning, I started SB's engine and took a picture of the mileage, gas average, and the amount of time I spent driving over the entire trip. Let me note that the timer displays only 19:52 hours. Please know, however, that the gauge doesn't have the ability to denote 100s of hours; so, the timer should have read 119:52h. I refuse to convert that into average hours per 24-hour day.
Lastly, let me share the map of the entire trip. I knew it was the plan, but seeing what SB and I accomplished still shocks me that I would put us both through it all.

---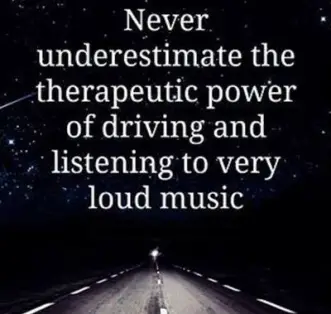 I wanted to pay tribute to the songs and artists whose music I chose to reside on my DLair's Replays playlist. The variety and vitality of the songs were a real help along the road, and as I've mentioned, the selection is all over the spectrum of popular music. (Fellow catalogers will recognize the generic 505 note style of listing.)
We Are the World / U.S.A. for Africa — 25 or 6 To 4 / Chicago — Eye of the Tiger / Survivor — Imagine / John Lennon — In the Air Tonight / Phil Collins — Livin' for the Weekend / O'Jays — Love Theme from "A Star Is Born" (Evergreen) / Barbra Streisand — Love's Theme / Love Unlimited Orchestra/Barry White — Take Me Home, Country Roads / John Denver — That's What Friends Are For / Dionne Warwick/Stevie Wonder/Elton John/Gladys Knight — Uptown Funk / Bruno Mars & Mark Ronson — You Make Me Feel Brand New / The Stylistics — U Can't Touch This / MC Hammer — April in Paris / Count Basie — (Sittin' on) The Dock of the Bay / Otis Redding — Uninvited / Alanis Morrisette — Could It Be Magic / Barry Manilow — Dueling Banjos / Eric Weissberg & Steve Mandell — I'm Still Standing / Elton John — State of Independence / Donna Summer — Take Five / The Dave Brubeck Quartet — Thriller / Michael Jackson — Bad Moon Rising / Creedence Clearwater Revival — I'll Write a Song for You / Earth, Wind & Fire — Inner City Blues (Make Me Wanna Holler) / Marvin Gaye — In the Mood / Glenn Miller Orchestra — Mary / Take 6 — Doing It to Death / James Brown — Car Wash / Rose Royce — I Wish / Stevie Wonder — It's Only Make Believe / Glen Campbell — Smoke Gets in Your Eyes / The Platters — I Just Called to Say I Love You / Stevie Wonder — (Night Time Is) The Right Time / Ray Charles — Gangsta's Paradise / Coolio — Live and Let Die / Paul McCartney — Paint It Black / The Rolling Stones — Purple Rain / Prince — Tonight Tonight Tonight / Genesis — With You I'm Born Again / Billy Preston & Syreeta — Bohemian Rhapsody / Queen — Aquarius-Let the Sunshine In / The 5th Dimension — I Will Always Love You / Whitney Houston — The Gambler / Kenny Rogers — 9 to 5 / Dolly Parton — It's Only Make Believe / Conway Twitty — Maybe God Is Tryin' to Tell You Somethin' (Soundtrack, The Color Purple) — Proud Mary / Ike and Tina Turner — Flashdance… What a Feeling / Irene Cara — Wild Wild West / Will Smith — I Am a Man of Constant Sorrow / Soggy Bottom Boys — Mack the Knife / Ella Fitzgerald — We Will Rock You ; We Are the Champion / Queen — Don't Let the Joneses Get You Down / The Temptations — Ballad of Jed Clampett / Flatt and Scruggs — A Change Is Gonna Come / Sam Cooke