Ten years ago, I decided to bypass the Badlands National Park.  Bad decision, but fortunately, I had the opportunity to see it this time.
The route along I-90 regularly passes by several South Dakota historical sites.  I made a quick drive through of this one: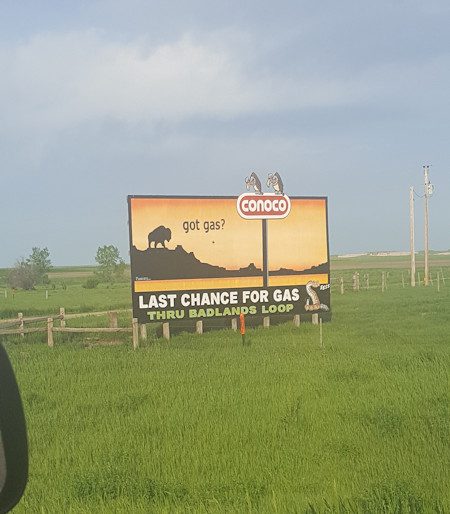 I got off to an early Sunday morning start because I know popular national parks fill quickly, especially during holiday weekends.  Although I had about a half tank of gas, I also had learned from past experience that stations were rarely available once one entered the park.  So when I saw a sign reminding me of this, I decided to stop at the station and add more gas to RB's tank.  (BTW, gas prices are, not surprisingly, higher because of the station's isolated location, so fill up beforehand.)
For a second day, the weather was wonderful, cooler than yesterday, although I wasn't sure it would stay that way.  I'm a Southerner, however, so warm is okay with me.
The park is huge, covering approximately 244,000 acres, so I decided to sample it by driving its Loop Road.
The route highlighted in yellow is the direction I took:
The scenery is stunning, changing from high rocky formations to grassy plains–sometimes appearing on opposite sides of the same stretch of road.  I stopped frequently to enjoy the scenery and to take a couple hundred pictures.  A few of them are below:
Most photos are available on my Flickr page, if you want to see them, please do.
However, they don't do the park justice.  If you haven't seen it yourself, add it to your list of places-to-go.
The road ended near Wall, South Dakota.  I got lunch and was going to visit the infamous Wall Drug.  Then, I realized that I really didn't have a need to stop there again, even ten years after my last visit.  Instead, I turned RB towards Wyoming and the Devil's Tower National Monument.
(I'm going to add a note here.  Recalling that my phone service was spotty, at best, on each of my past visits to northwestern United States, I got a printed, up-to-date atlas before I started this trip.  As it worked out, it was a good thing I did because I had virtually no Wi-Fi access until I returned to Iowa.)
Even from a distance, the Devil's Tower is impressive and became even more so as I approached.  I'd visited with my niece ten years ago, but we opted not to enter the park itself.  This time, I did go inside.  It was interesting to get a closer look at the rock formations, but I suspect that those who choose to hike or climb would get even more from a visit.
Still, I got plenty of pictures:
with the bulk of them available on Flickr.
It was getting late, and I had to drive back to South Dakota.  The one hotel reservation I'd made was for a place in Keystone.  Between the early start I'd have Monday morning and the likely holiday crowd, I felt needed to set this up in advance.  The trip had a bit of unexpected excitement.  A severe storm moved in that night.  I wanted to take pictures of the lightning flashing across the peaks of the Black Hills, but I was concerned that the situation was too unsafe, even for me, to chance it.
Thankfully, I was able to get into the room just as the rain was starting to fall heavily, so I didn't get drenched.
Below is the day's route: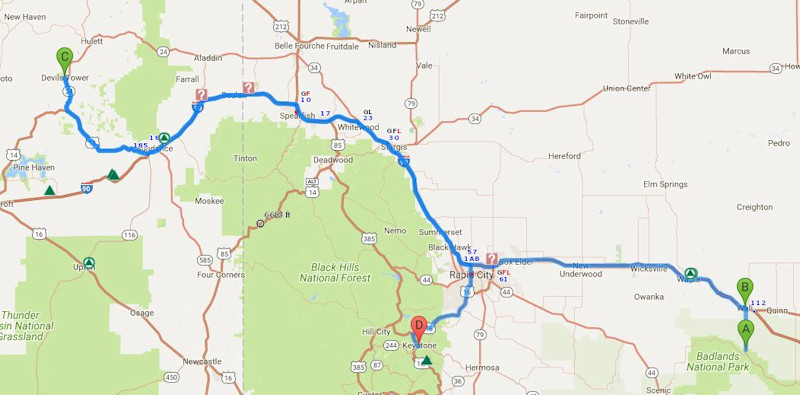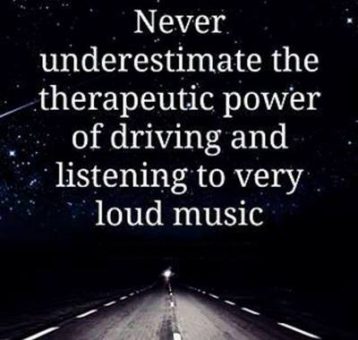 The playlist continued to work its way through the R's for most of the day.  Roberta Flack, Ray Stevens, Roy Orbison, Red Hot Chili Peppers, Rihanna, Ricky Martin, Rick Springfield, Ramsey Lewis, and more.  As the evening descended, the S's began: Sade, Sam and Dave, Selena, Simon & Garfunkel, Steely Dan, Sam Cooke,….