I described myself as an eco-tourist on Tripadvisor because I enjoy travelling, but I usually work with a limited budget. Purchasing the senior national park pass two years ago has been a major benefit to me on that front. It's has especially come in handy for this trip. Instead of paying $30-35 to enter one park, I whip out that card and I'm good to go.
However, I do allow myself the occasional indulgence, especially if this is for something on my bucket list.
I was finally in the position to strike the Grand Canyon Skywalk off my list. My mother and I had visited the Grand Canyon in 2012. Although the Grand Canyon is a national park, the Skywalk is not part of the park system. Therefore, my senior pass doesn't cover the fee to visit the site.
I arrived very early, nearly an hour before the entry opened. Once I got in, the gentleman at the checkout told me that I was eligible for a senior discount, which was great, then that my walker and other personal items would have to be stored before I was permitted onto the Skywalk. They would provide a walker for my use, but this also meant that I would not have my phone and its camera. As you can imagine, I objected to turning over my camera since I use it to take pictures of the sites I visit. I have not idea why this policy was in place, but I decided not to continue on. With great reluctance and disappointment, I turned back and left.
I did get a few pictures of the surrounding area to share: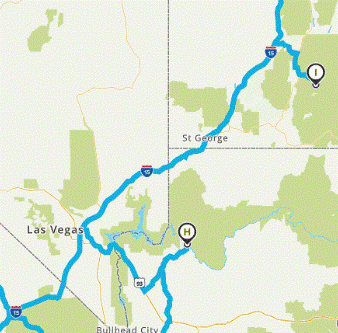 The eco-tourist in me tried not to think about all of the driving–or, more specifically, the gas I burned–and the physical wear-and-tear to reach this area without completing my goal. This is the chance I take, however, with a trip like this. At least it's all beautiful scenery, and the weather continued to be glorious.
My next destination was the first of four national parks in Utah. I based the order on the shortest route between each according to Mapquest. Based on that, my first stop would be Bryce Canyon National Park. The route, as would often happen between one park and the next, was not direct. I actually crossed back into Nevada and drove through Las Vegas a second time–this time giving me a daytime view of the city. Again, I was not tempted to stop and avail myself of its gambling facilities.
As you can see from the map, I re-entered Arizona very briefly before actually entering Utah. Fortunately, about half of the route was on the interstate, so it took far less time than I expected. Yet I arrived late enough that I decided to get a few shots outside the park and settle for the night, saving my visit until the next morning.
This slideshow requires JavaScript.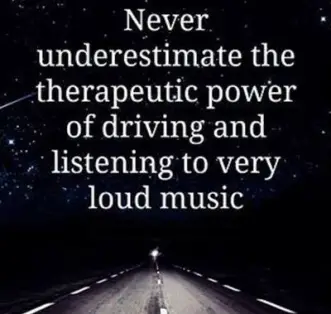 Gas prices continue to run in the $6.00 per gallon range, making me yearn for the lower prices I've been used to paying.
From a music standpoint, I was giving myself a steady dose of D'lair's Replays. I really like the songs on the list, and the music kept me in a pretty good mood despite the way the morning had gone.