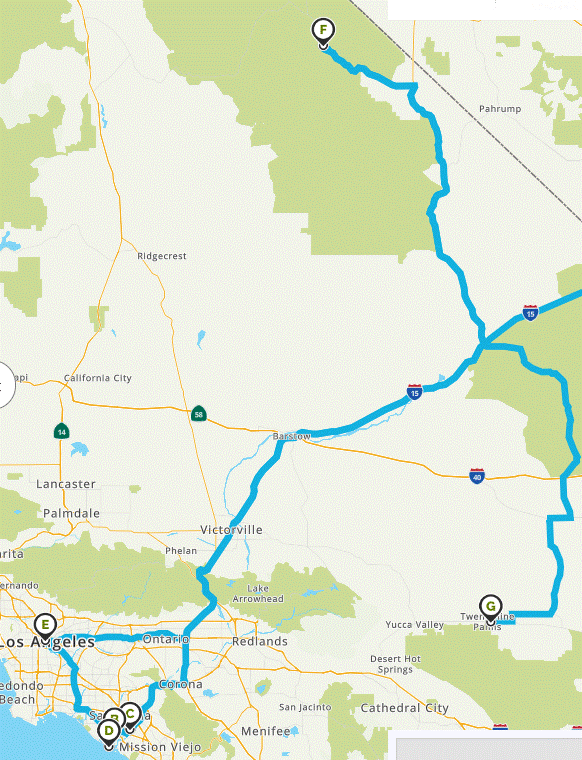 I was just a few miles from the entrance to Death Valley National Park. I got a very early start, so I took some pictures of the sun rise. It had felt a little weird to run air conditioning again the night before, but then again, I had used it while in the Irvine/L.A. areas, too. I pulled into a gas station and only put their $7.999/gallon fuel into SB because I had no choice, and I know better than to enter a park with less than half a tank of gas.
When the visitor's center opened at 8 a.m., the temperature was already 74 degrees. Forecast for the day was 98 degrees, but I was hoping to be out of the area well before then.
I ALWAYS stop by the national park's visitor center to get the latest information and scenic route guides from the park rangers on duty and to get my national park passbook stamps and/or look for souvenirs. Normally, I would have also checked the park's website, but getting the word from the ranger's mouth is the most current. Occasionally, the centers were the only places where WiFi access was available in the park or nearby vicinity. And of course, restroom facilities and fresh water were at hand.
Death Valley had a number of closed roads, but parts of the park where the movie, Star Wars, was filmed were close by and still accessible. Unfortunately, I managed to miss the turnoff that led to that area and ended up miles up and deep into the park. The road suddenly became unpaved, then just past some rather curious looking buildings that appeared to be ancient dwellings. (This is from https://www.doi.gov/blog/12-things-you-didnt-know-about-death-valley: The Charcoal Kilns are a remnant of the park's history. Odd beehive-like structures of the Wildrose Charcoal Kilns stand 25 feet tall and preserve the history of Death Valley in their walls. Built in 1877 by American Indian, Hispanic and Chinese workers, the kilns provided a source of fuel suitable for use in two smelters at nearby lead-silver mines until 1900. They're more remote than the park's more popular sites but are one of the best preserved and unique attractions. Visitors today can explore the kilns and hear the stories of the people who built them.)
Just beyond that site, there was a posted sign that four-wheel drive was recommended to continue onward. (No, I didn't follow that advice until I reached the point where I thought I was going to severely damage SB. I very carefully turned her around and gingerly retraced our tracks. I'm not sure SB has forgiven me for that yet.) I eventually found the road that was supposed to be my original turn off, but I didn't have the time to do so. There was still one more national park to reach that day.
This slideshow requires JavaScript.
Distance from Death Valley (see F in map above) to Joshua Tree National Park (G) was approximately 237 miles, which Mapquest estimated I should need 4.3 hours to reach. Between leaving Death Valley late, and the need to gas up, eat, and so worth, I didn't reach the visitor center until 20 minutes after it had closed at 5 pm. Curiously, it and a separate building where souvenirs were sold were located several miles from the the park itself. I purchased a couple of souvenirs from the store but was admittedly unhappy that the passbook stamp was kept only in the visitor's center. Sunset was not that far away, so I had to decide whether to stay in town overnight or see what I could of the park, do without the stamp, and start the 7.5 hour drive to Grand Canyon's Skywalk.
With no real sense of what to see at Joshua Tree, I simply drove in a few miles, turned around and headed northeast towards Arizona.
This slideshow requires JavaScript.
I didn't like the way the day ended, but I would dislike how the morning went even more.