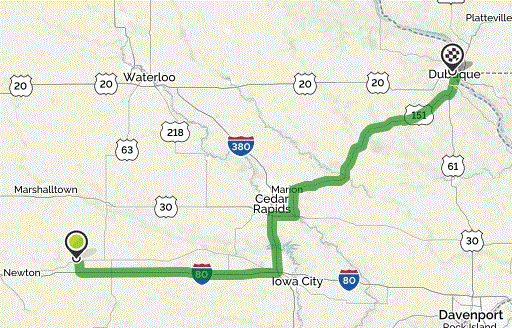 On Thursday morning, it suddenly hit me that the Labor Day weekend was approaching, and I REALLY didn't want to spend it in Grinnell.  The answer:  a one-tank trip.  Relatively inexpensive and not too far away.
I decided on Dubuque because my previous visits there had all been for conferences with no time to play tourist and because it was only 2.5 hours away in RB.
Got up early Saturday (well, early for me, anyway) and took care of some Star Trek party business–including picking up the party guest-of-honor and my new navigator, Trek Bear, before hitting the road around 11 a.m.  Unfortunately, I didn't know that Iowa had a football game scheduled for that afternoon and, thus, I got caught up in it.  I suspected it would only get worse as we got closer to Iowa City, so I got off in Williamsburg and got a manicure/pedicure.  By the time my nails were dry, the traffic was back to Saturday normal, so the rest of my drive was uneventful.
My first stop in Dubuque was The Mines of Spain–a recreation park with several miles of easy to challenging trails for hiking and waterways for canoeing.  A couple had just gotten married in a shelter near the interpretative center.  Fortunately, the Julien Dubuque Memorial sets in view of the Mississippi at the end of one of the easy, short trails, so I walked down and got some pics.
I drove through the rest of the park and enjoyed the fields of wild flowers.  The park was fairly quiet considering it was a holiday weekend Saturday, but I'd bet it gets far more active over the rest of the 3-day holiday.
This slideshow requires JavaScript.
It was then too late to really spend time in the museums on my list of places to visit, so I next drove to the Eagle Point Park.  The website describes it as: "one of the most outstanding parks in the midwest. One hundred and sixty-four acres overlook the Mississippi River and Lock and Dam #11, providing a spectacular tri-state view of Iowa, Illinois and Wisconsin."  For once, I didn't think that type of comment was an overstatement.  Loads of both outdoor–many with views of the river–and interior space for gatherings, plus an outdoor band shell.  Only $1.00 charge to enter with RB.  Watching all those folks eat suddenly made me hungry, so I quickly finished my tour and sought out a local eatery.
I ended up at Catfish Charlie's, which specializes in,… well, I think it's obvious.  And the enormous and wonderfully prepared plate of catfish that was set before me provided more than adequate proof of the restaurateur's skill.
Wish my evening had ended so well.  Let me just say that the motel where I settled for the night left much to be desired and let it go with that.
Looking forward to seeing more of the city on Sunday.
Save
Save
Save
Save