(If you don't get the reference, you really need to watch more 60's TV.)
Saturday morning of the Memorial Day weekend, and I wanted get out of town for a couple of hours.  So, I grabbed my camera and laptop and was going to drive to the state park about ten miles away.
I plugged in the latest adapter (RB is pre-USB player-equipped) and immediately realized that my original destination was inadequate for a proper test of its ability to handle my playlist.  Since I didn't have a change of clothes, and a visual reminder of my need to clean house might have dampened my impulse if I went back inside to pack, I started RB and headed east instead of west.
As I neared the Mississippi River, which creates the eastern border of Iowa, and the exit for my destination, I had an impulse to keep driving east towards home.  Remembering that I had no change of clothes and only three days of my extended weekend left, I prudently took the last exit towards LeClaire, Iowa.
I'd decided to go on the 1 1/2-hour riverboat cruise I'd discovered online, but the site didn't have specific street or other location info.  As I'd hoped, however, LeClaire's street signage was adequate to direct me down its main roadway to the turnoff where the ship's dock was located.  And, fortunately, I was able to buy a ticket last moment despite it being a holiday weekend.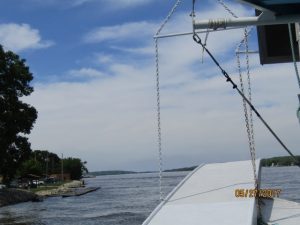 After boarding, I immediately headed towards the bow of the riverboat and found the best view still available.  As we meandered upriver, we could see other pleasure craft and barges pass by, and I could see a wide array of houses on the river's shores.  I wondered if they didn't frequently suffer from flooding, when, coincidentally, the captain announced that the houses were built to minimize the effects of the Mississippi River overflowing its banks.  He also mentioned that the red and green buoys on each side of the river were intended to warn boaters that the river's depths were less than nine feet between the buoys and the shore–another reminder that the Mississippi isn't quite so mighty that far north.  One bit of information he shared was especially surprising to me.  I didn't know that the river used to have rapids requiring experienced pilots to navigate.  Over the years, man's engineering had resulted in reshaping the river to eliminate the rapids.
If one was looking for excitement and adventure, that would not have been the excursion for them.  However, since I was looking for a leisurely cruise, this fit the bill–though I wouldn't have minded if it had lasted longer.  Below are a few of the pictures of scenery along the Mississippi River and from the interior and exterior of the boat.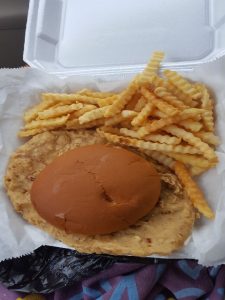 By the time boat docked, it was too late to visit the nearby Wild Bill Hickok museum, and I didn't want to be tempted by the plethora of antique shops around town (found out much later that the guys who host the "American Pickers" TV show are based there–thank goodness I didn't know that at the time).  So, I searched online for the local fare and discovered a diner that specialized in pork tenderloin.  Well, I've lived in Iowa for more than a decade and managed to miss trying this state staple, so I drove over and got a sandwich with fries and a drink.  The sandwich was HUGE, but its favor and consistency reminded me of cube steak, which I don't like enough to want to eat.  Still, the place was very popular, so don't avoid it on my account.
Took my meal back to the river bank and ate while watching the Mississippi flow past. There was a small park with a large, painted stone honoring veterans, so I took various shots.
This slideshow requires JavaScript.
Finally, it was still a bit before sunset, but I needed to decide what to do next. I contemplated getting onto the Grand River Road and heading south towards the border between Iowa and Missouri, but recalling that I didn't even have a toothbrush, much less a change of clothes, I pointed RB west and back towards Grinnell.
Save
Save
Save
Save